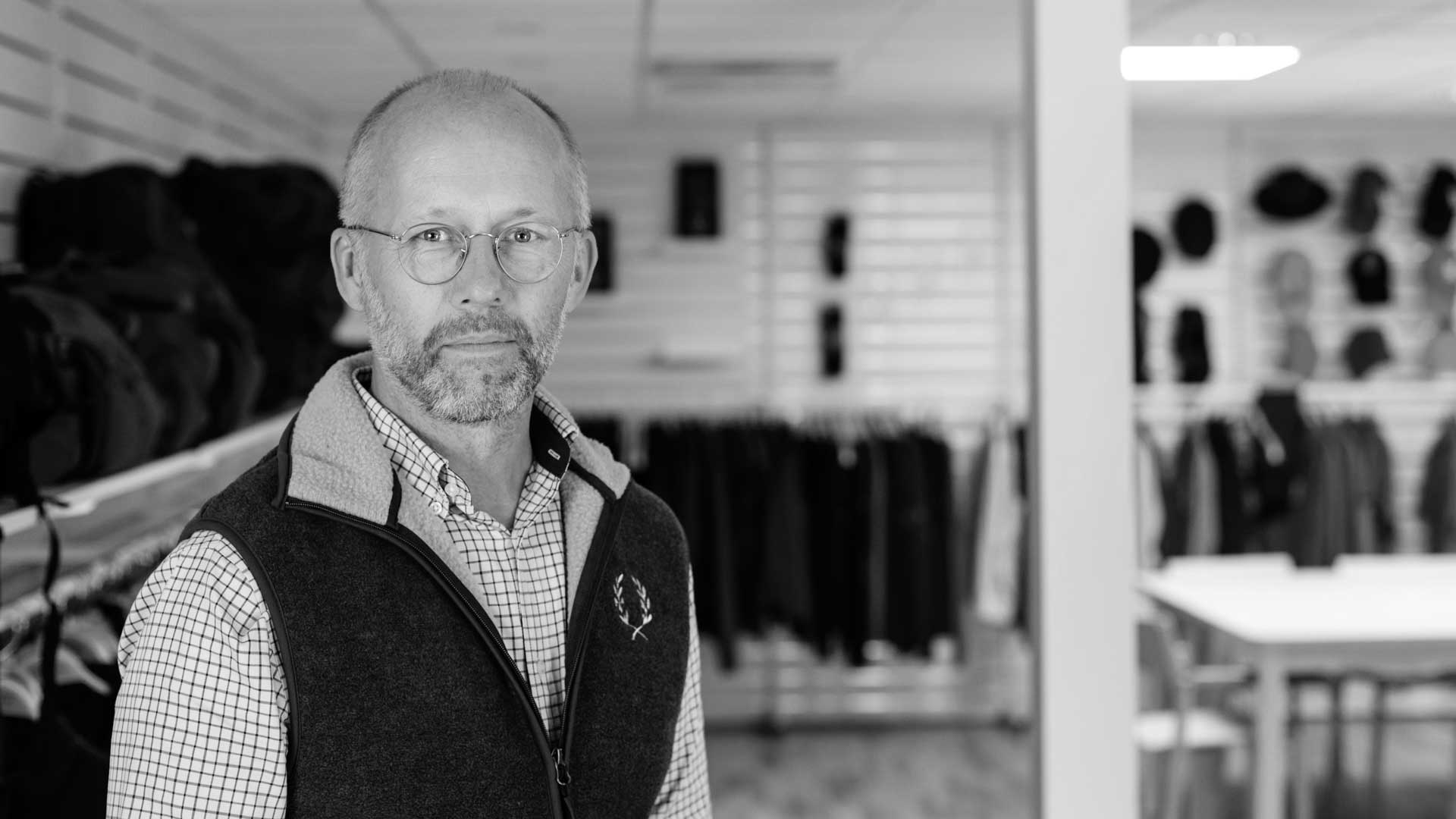 NIKLAS NILSSON, MD OF CHEVALIER
FACTS
Chevalier develops, designs and markets clothing and accessories for hunting and leisure under its own brand. The company was founded in 1950 and today conducts sales in 30 markets, with Sweden, and northern and eastern Europe as its principal markets.
Chevalier has been part of Mellby Gård since 2015. As of 2019, Chevalier is part of the holding company Open Air Group, in which Mellby Gård holds 22.5 percent. Mellby Gård's representative on the Board of Directors: Sven Knutsson.
Headquarters: Mölnlycke
Sales 2018/2019: SEK 354 million*
Number of employees: 79
Chairman: Rickard Kemfors
*Pro forma. Includes sales for Chevalier.
– A HUNTER WITH NEW AMMUNITION
During the year, Chevalier, a brand company in hunting clothing, began a merger with the Open Air Group leisure group. The transaction will take Chevalier into a broader context, with the strategic synergies needed in a rapidly changing retail sector.
Chevalier will celebrate its 70th anniversary next year. Through the company's extensive history, providing the highest-quality hunting clothing has built a solid position as a leading premium brand in the hunting world. Mellby Gård acquired the company in 2015 in connection with a shift of generation. Following the acquisition, it has gradually become increasingly clear that a small niche company in the clothing industry faces considerable challenges in the form of competition and customers' changing shopping habits.
"Chevalier will prosper from inclusion in a broader context and enjoy the economies of scale that this entails. It is a strong and reputable brand and, alongside Open Air Group's other holdings, we can share resources in e-commerce expertise, purchasing, design, CSR and finance. You could say that Chevalier has gained new ammunition for continued growth", says Sven Knutsson, Chevalier's Chairman, who, following the transaction, also sits on the Board of Directors of Open Air Group.
Open Air Group is a holding company that owns a number of hunting and leisure brands in the Nordic markets – particularly in Finland. These brands include hunting clothing brand Alaska, which occupies a lower price segment than Chevalier and therefore has a different, supplementary, customer group, as well as shop brand Widforss. The principal owner of Open Air Group is the investment company Nalka, which has its origins in the IKEA group. Through the merger, Mellby Gård will acquire a 22.5 percent shareholding in Open Air Group.
"Mellby Gård's investment horizon is always non-finite. We are not in the business of selling companies. Naturally, we do, however, consider doing so when this offers evident strategic advantages and industrial logic. The merger between Chevalier and the Open Air Group is one such example", says Sven Knutsson.
Niklas Nilsson has been the MD of Chevalier since October 2018. He has 30 years of experience in retail and brand companies. As early as in his 20s he started his own clothing shop in Ulricehamn. Since then, his career has progressed via companies including Järnia, Team Sportia, Whirlpool, Philips, Expert, Elon and, most recently, the clothing brand Didriksons.
"Retail is changing fast. An increasing number of consumers are shopping online, putting some physical shops out of business. Those aiming to survive must invest heavily in the in-shop experience. A shop selling hunting-related products may need to review its service offering to remain relevant, and this applies to all retail. This has an impact on how we, as a brand company, should work with the market. We must be present in appropriate shops and on the right platforms", says Niklas Nilsson.
Over the year, he prioritized branding work, which included defining Chevalier's values, since it is highly important that a brand represents clear values with which customers want to identify. Chevalier is a brand that, with its style and function, is the choice for the discerning hunter who views hunting as a lifestyle and a social context. Chevalier shall take hunters closer to nature and reflect their spirit.
"During the year, we reduced the sales force, stepping up product development instead. We did this to ensure that Chevalier's values are truly reflected in the collections", says Niklas Nilsson.
In terms of sales, the year was more or less unchanged compared with the preceding year for Chevalier. In terms of earnings, the year entailed a loss, with the company having incurred major non-recurring costs. The warehouse was relocated, and a third-party logistics partner was replaced. At the same time, the company changed its business system.
Chevalier is present in approximately 30 markets, the largest being Sweden, Norway, Germany and eastern Europe.
SIGNIFICANT EVENTS 2018/2019
Chevalier merged with Open Air Group.
Niklas Nilsson stepped in as MD in October 2018.
A major branding process was completed.
The warehouse was relocated and collaboration with a new third-party logistics provider commenced.
The implementation of a new business system was completed.
The organization was changed with a focus on product development, design and purchasing.