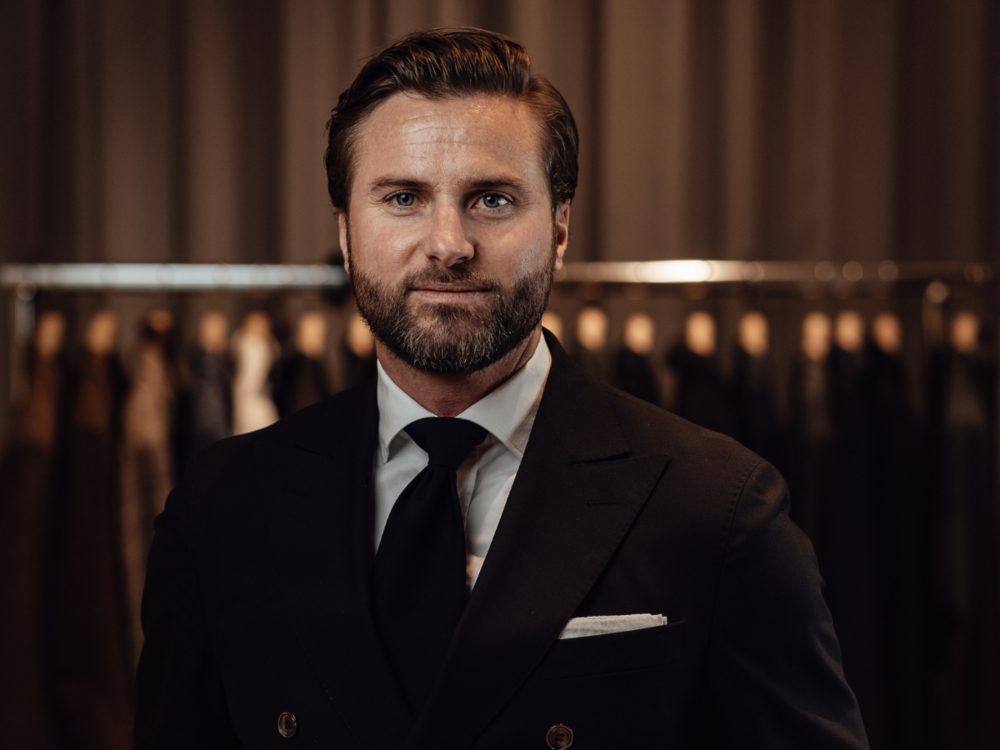 About Oscar Jacobson
Oscar Jacobson has been offering stylish, beautifully tailored men's suits for more than a century. Now the range has been extended to suit all occasions. The guiding principles are high quality combined with a high degree of style. The timeless design of the garments also lends itself well to the garments being reused as second-hand items.
Head Office

: Borås

Net Sales 2022

: SEK 393 m

Employees

: 77

Chairman

: Sven Knutsson
www.orscarjacobson.com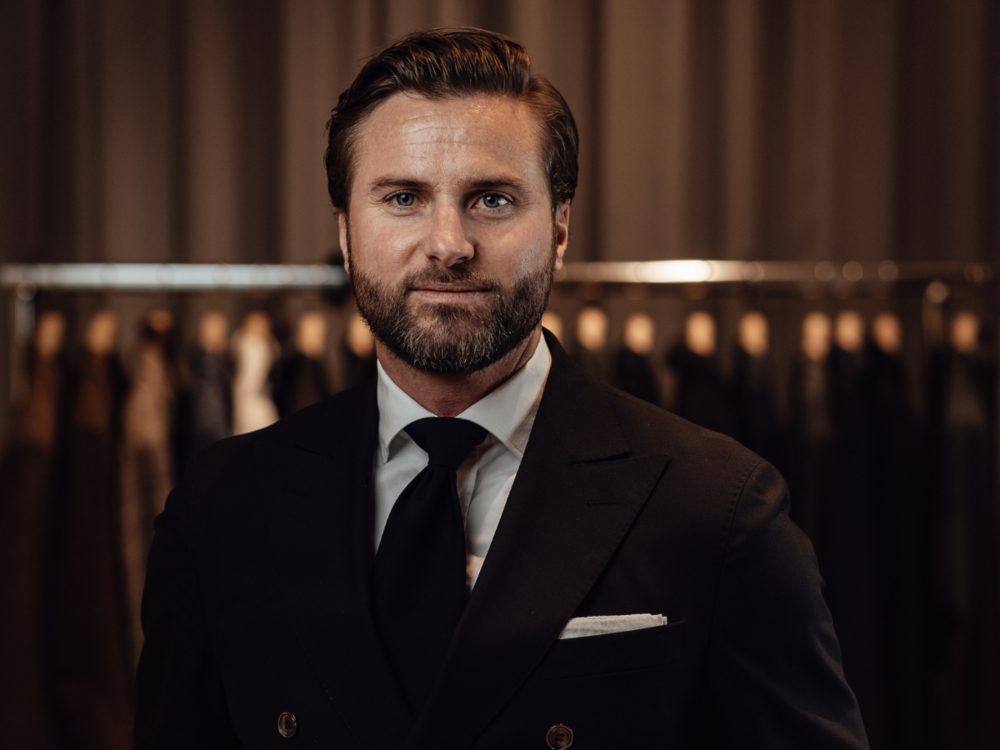 Richard Woodbridge
CEO, Oscar Jacobson
Oscar Jacobson's 2022
At Oscar Jacobson quality means sustainability
With Oscar Jacobson clothing, the style-conscious man can be both stylish and in tune with the times. 2022 saw the party suit return to the wardrobe just as the classic menswear company expanded its focus on jeans, shirts, sweaters and shoes for everyday wear. Then as now, quality and sustainability are the recipe for success for Oscar Jacobson.
For men's ready-to-wear company Oscar Jacobson, 2022 was a fantastic year. Net sales increased to SEK 393 million while the profit was the best ever in the company's 120-year history. Although the numbers speak for themselves, it is important to be humble, according to Oscar Jacobson's CEO Richard Woodbridge.
"We see growth in 2022 as a natural recovery after two years that were partially lost," he says. "There's clearly pent-up demand, and now that it's possible to go to parties and weddings again, people have a good excuse to buy a new suit. What we need to do going forward is to get our customers to supplement their new suits and create a new positive trend."
The brand was founded in 1903 by tailor Oscar Jacobson in Borås. He was a pioneer who revolutionized the textile industry by sewing suits in predetermined sizes. Today, Oscar Jacobson is an established lifestyle brand. The focus is on creating perfection in each garment based on Swedish tailoring craftsmanship. As a purveyor to the Swedish Royal Court, Oscar Jacobson collaborates with some of the world's most exclusive textile mills, with production taking place in Europe for quality and sustainability reasons.
FILLING UP THE ENTIRE WARDROBE
scar Jacobson has continued to develop its range during the year in line with the company's strategy to offer additional products for men's wardrobes. New launches of jeans, shirts and shoes keep to the same style and price level as the rest of the range. Suits still account for around 60 percent of sales, but demand is now growing for other products as well.
"Dressy fashion has made a comeback," says Richard Woodbridge. "There was great demand for ties and double-breasted suits in fall 2022."
OWN-CHANNEL SALES INCREASE
Oscar Jacobson is well known in Sweden and Norway and has great potential to grow even more rapidly in the Nordic region. During the year, a new store was opened in the Hansa department store in Malmö. The next store will be opened in the famous Illum department store in Copenhagen in Q1, with two more standalone stores being opened in Denmark in Q2. The ambition is for the company to continue developing its own stores and online sales at a rapid pace over the coming years. Today, Oscar Jacobson has 16 of its own stores and works with 300 retailers. Growth has been witnessed in all sales channels in 2022, with the increase being greatest in the company's own channels.
INDUSTRY AND CUSTOMERS DEMANDING CIRCULARITY
The global textile industry faces major sustainability challenges. The challenges concern managing the entire production chain more responsibly and reducing consumption to ensure a more circular business in the long run. A 2019 report by the European Environment Agency shows that, on average, a garment is used 7–8 times before being discarded. Many argue that this is a conservative estimate. The single most important action the industry can take is to extend the life cycle of the garments by one or more users instead of producing new garments.
As Oscar Jacobson's garments constitute high-quality craftsmanship in a classic style, designed to last for over ten years, they are very suitable for reuse. Based on this thinking, the circular concept Sustain by Oscar Jacobson was launched in 2021. from Oscar Jacobson's sample collections. These are mainly used for product development, to convince buyers to make a purchase or at fashion shows. Historically, these garments have not received so much attention. By displaying them in the store, they can now go to someone who really wants to give them a little more love. There is also the option to have something personalized and unique sewn here. Oscar Jacobson offers 500 fabrics from some of the world's finest fabric producers. Or for those who are more fickle in their style, it is possible to hire something for a special occasion.
"Sustain is our way of taking responsibility," says Richard Woodbridge. "Our clothes are of a quality that allows them to be used a great deal, for a long time and by several owners. By buying and selling clothes that we've made ourselves, we extend the life of the garment and reduce its environmental impact in real terms."
The concept store in Stockholm, whose interior design is also based on reused materials, has been surprisingly well received. There is a lot of interest in both submitting and buying clothes. Oscar Jacobson has a fairly broad target group, as does Sustain, but younger customers are more attracted to the possibility of buying a quality garment at a slightly lower price. The demand for suits in particular is high, and the store could benefit from more people submitting garments.
"We're very proud of the store," says Richard Woodbridge. "It's given us a great deal of joy throughout the company, and it feels great to see our beautiful garments with new, happy owners!"
Significant events 2022
Record net sales and profit.
Successful launch of new range of jeans, shirts and shoes.
Opening of a new store in Malmö.