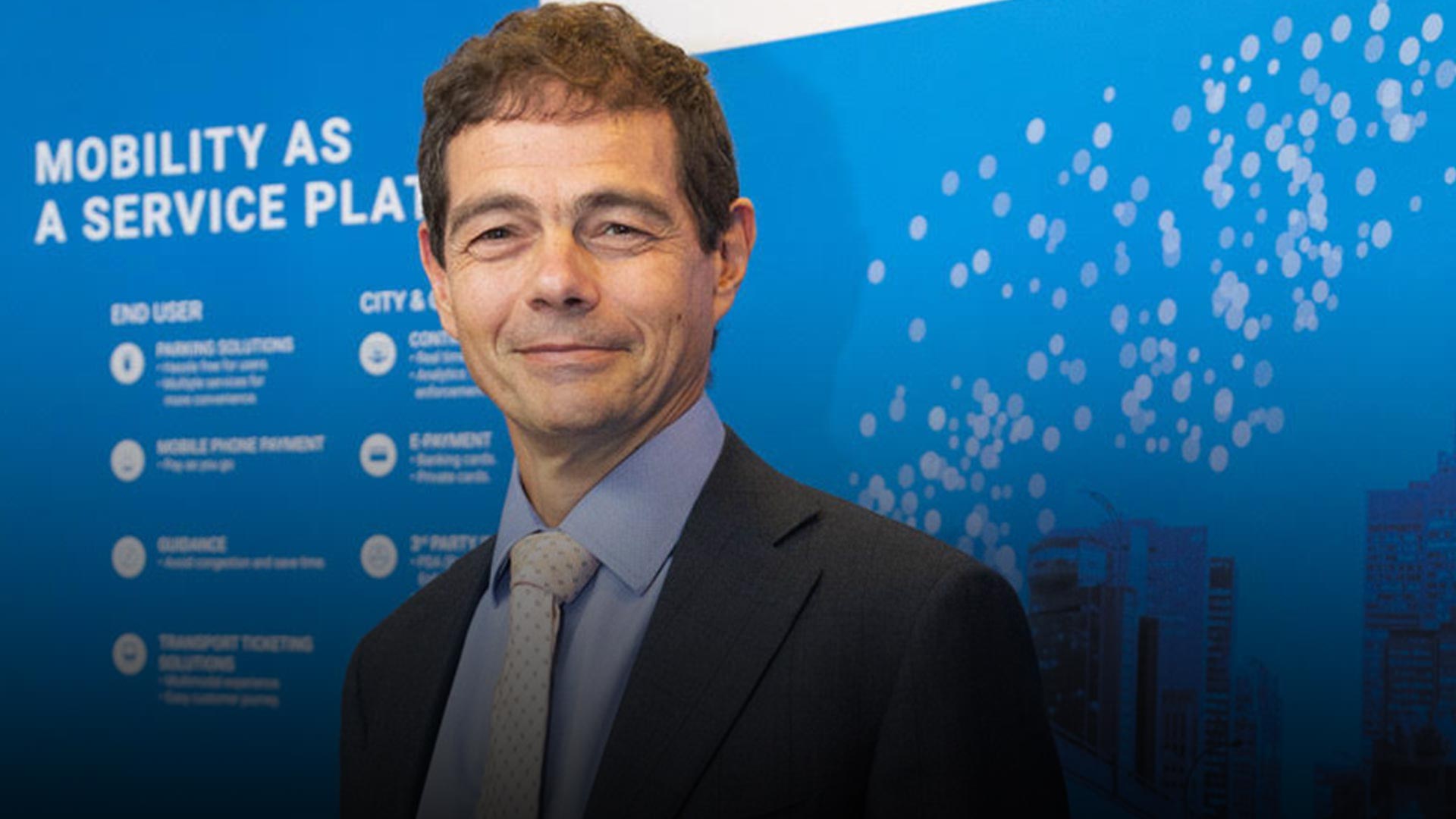 Bertrand Barthelemy, GROUP CEO
FACTS
Flowbird is the result of a merger decided in January 2018 between Swedish company Cale and French company Parkeon. Cale was founded in Sweden in 1955 and developed over the years into one of the world's leading suppliers of parking machines, mobile applications, permit solutions and systems for monitoring and issuing fines, as well as transaction management.
Through Cale, Flowbird has been part of Mellby Gård since 1997. Mellby Gård's representative on the Board of Directors is Johan Andersson.
Headquarters: Paris
Sales 2020: EUR 267 million
Employees (FTE): 1,320
Chairman: François de Mitry
– DIGITISATION AND MOBILITY ARE THE FUTURE FOR SMART CITIES
The need for simpler, quicker and smarter solutions, whether in relation to parking or public transport, is a growing trend. Digitisation is the core of Flowbird's strategy for the future. In both 2019 and 2020, despite the pandemic, the attractiveness of Flowbird's solutions has been evident throughout the world.
Flowbird is a truly global company, with a presence in 80 countries. The majority of the operations are conducted in Europe and the USA, although the company is growing in Africa, Asia, Australia, Eastern Europe and the Middle East. The company has two business units: Smart City, which includes parking solutions and mobile payment solutions for parking, and which accounts for around 75 percent of sales, and Transport Intelligence, which includes design and marketing of ticketing systems for public transport and accounts for 25 percent of sales.
"During the past two years we have succeeded in increasing the rate of digitisation in our operations, and I am very proud that we have been able to do this despite the COVID-19 crisis. We have been able to grow platforms and add both revenue and added value to cities and transport systems," says Bertrand Barthelemy, Group CEO of Flowbird.
A FOOTHOLD IN MAJOR URBAN CENTRES
Flowbird's new ticketless solution for public transport can be integrated with existing ticketing systems, and consequently there is no need for cities to replace functional payment systems. The open payment solution has enormous market potential and will continue to be very profitable over time, as Flowbird receives a fee on all payments.
New business opportunities for Transport Intelligence include Edinburgh, Paris, Perth in Australia, and all cities in Northern Ireland. At present there are few market competitors, and Flowbird is looking at the Nordic region and North America as the next step in its development.
"Our open payment solution is extremely successful and popular. Regardless of whether you are in Belfast or London, you don't need to register in order to buy a travelcard or ticket for the underground or public bus service – you can simply use your own contactless debit/credit card. It is a very convenient solution for everyone," says Bertrand Barthelemy.
A GROWING NEED FOR PRACTICAL PARKING SOLUTIONS
To date, Flowbird has delivered around 70 percent of the total number of parking machines in the world, and the goal is to continue to grow in volume. The potential lies in better utilisation of the installed base of parking machines, in order to create added value and increased versatility with a clear mobile or digital strategy.
"During the first lockdowns caused by the COVID-19 restrictions, our parking operations were hit hard. In principle our entire operations ground to a halt when everyone was forced to stay at home. But when people subsequently returned to work, private vehicles benefited at the expense of public transport. Now cities are faced with the challenge of having to recreate and manage parking zones and reintroduce ticket sales," says Bertrand Barthelemy.
Despite COVID-19, which has led to a downturn in demand, at least temporarily, Flowbird sees continued long-term market opportunities. The installed base of parking machines creates many opportunities involving contactless solutions and software upgrades as well as insourcing of the payment process.
The new contract with Barcelona covers 2,500 touchscreen terminals, kiosks and parking meters. In Stockholm, Flowbird's software platform is used for the city's own app and is also behind the popular mobile application EasyPark, which shows that the solution is attractive for local authorities. The company is currently awaiting the go-ahead for a launch in Hong Kong in 2021, and in New York the final phases of the contract review process are in progress.
The need for managing parking solutions looks somewhat different in the USA. The market there primarily concerns the management of the convergence between on- and off-street parking. Flowbird offers parking bookings with advance payment via registration plates. Sacramento, Detroit and Las Vegas have recently joined the list of cities where Flowbird's digital solution has been introduced.
"In the USA, parking has more to do with convenience than in other parts of the world. Flowbird receives a percentage of the ticket price, which has proven to be a very profitable business arrangement for us," says Bertrand Barthelemy.
SUSTAINABILITY IS PART OF FLOWBIRD'S ATTRACTIVENESS
Flowbird's solutions offer cities a sustainable strategy for being attractive to both commuters and visitors, while also reducing pollution levels and increasing the city's revenues. A simple and non-discriminatory payment solution for public transport can reduce the number of cars while also decreasing traffic congestion by making the parking process quicker.
"Our assignment is definitely ecological in nature. We help cities take care of the environment and all citizens by making payment solutions for public transport mobile and simple. In this way, cities become greener and more attractive, and their revenues increase at the same time. We make things simpler, safer and quicker," says Bertrand Barthelemy.
SIGNIFICANT EVENTS 2018/2019
Contract with the city of Barcelona for installation of 2,500 modern parking machines with touchscreens.
Seven-year contract with City of Stockholm for mobile payment with Flowbird's application under the City's brand.
Rollout of modern parking kiosks in Philadelphia.
Open payment solutions implemented in existing public transport systems in the United Kingdom, France and Canada.
Ten-year contract for a one-stop-shop system for the government in Hong Kong.
Open payment solutions and multimodality with Flowbird's mobile application in Monaco.