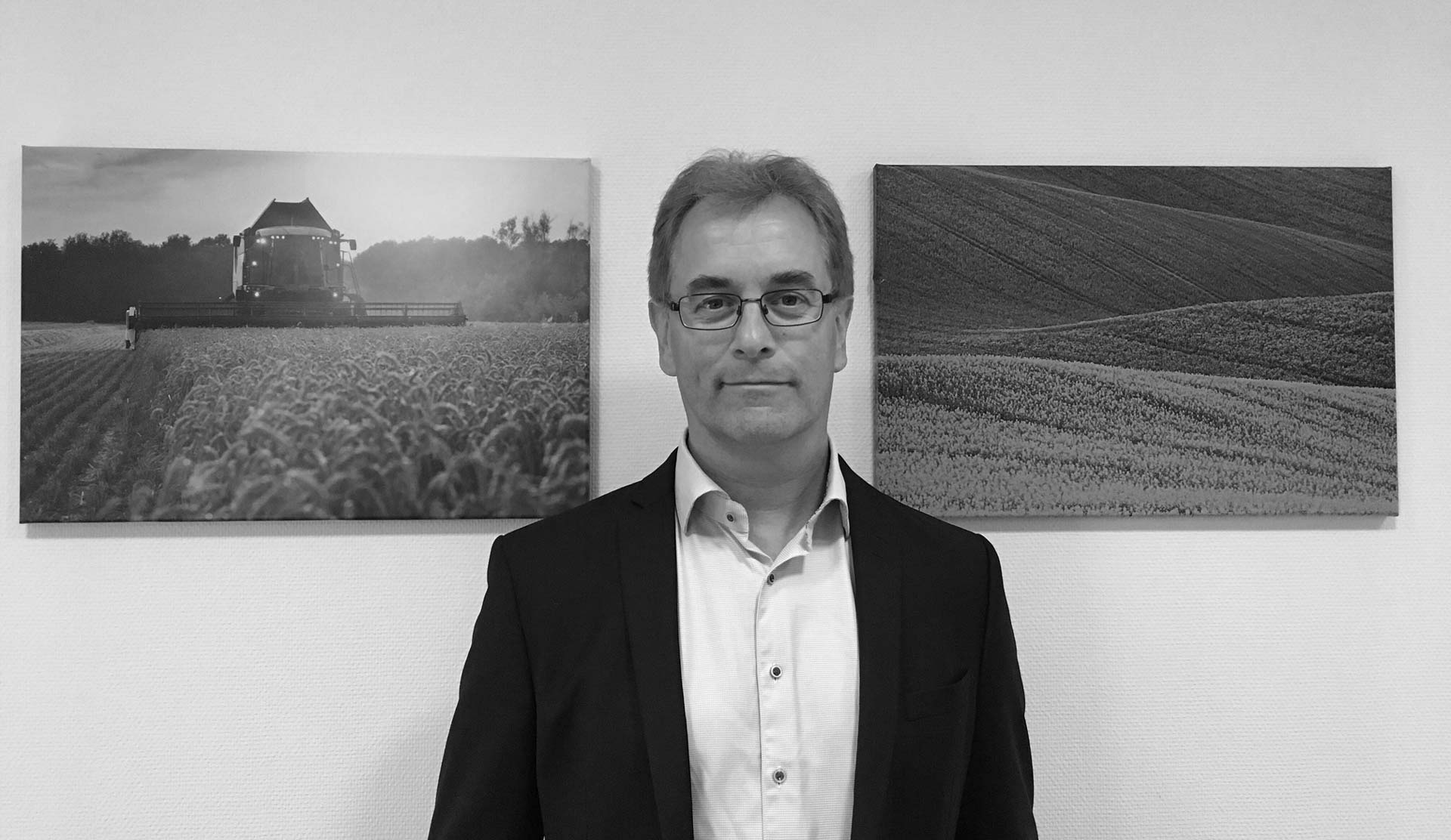 FACTS
BM Agri is a trading company focusing on cereals, oilseeds and fertilizers. BM Agri also works with price hedging through various commodity exchanges and provides market information to Swedish farmers. BM Agri operates throughout Sweden, focusing on benefit for farmers through cost-efficiency and close relationships with growers and customers.
BM Agri has been an associated company in the Mellby Gård portfolio since 2011. Mellby Gård's representative on the Board of Directors: Erik Andersson.
Headquarters: Lidköping
Sales 2018/2019: SEK 476.6 million
Number of employees: 6
Chairman: Thomas Svensson
– WITH STABILITY AND GROWTH AS KEY TERMS
BM Agri is a wholesaler of cereals, oilseeds and fertilizers. As a privatelyowned company, it is a challenger in a market dominated by member-owned cooperatives. With a strengthened organization, BM Agri will now continue to grow under stable and profitable conditions.
"Few events have affected us and the industry as much as last year's heat wave. The consequences of last summer's drought came to overshadow the day-to-day operations well into 2019. The long-term strategy process had to be put on hold as we focused on safeguarding our deliveries to customers and assuring the quality of these deliveries", says Johan Andersson, shareholder in BM Agri and the company's MD until October 2019.
BM Agri trades mainly in wheat, malt, fodder grain and rapeseed, purchasing from farmers throughout Sweden. The company maintains very small inventories of its own, collecting directly from the farms instead. This enables cost-efficient and flexible operations and would prove particularly valuable following the 2018 drought.
"Farmers' harvests were halved and were of poorer quality. Over the country as a whole, the grain harvest was the lowest in more than 60 years. It was impossible for farmers to deliver the produce for which they had been contracted. On the whole, the drought is estimated to have cost them SEK 10 billion in lost income", says Johan Andersson.
"The poor harvests presented us and our competitors with the same challenge. It became more difficult to provide customers with goods of appropriate quantity and quality. We were better able to adapt to the situation, however, because we are a small organization with relatively low overheads and close relationships with the farmers", he says.
During a year in which the industry as a whole saw its earnings plunge, BM Agri instead reported a profit of SEK 2.3 million in 2018.
"This is an outcome that we are satisfied with, under the circumstances."
With 2018 having been difficult for the farmers, 2019 offered them retribution instead. With favourable temperatures and abundant precipitation, harvests in several parts of the country were larger than in a normal year, allowing the entire industry to draw a sigh of relief. By year-end, it is estimated that harvest levels will be slightly more than six million tonnes – which is close to double compared with the extreme preceding year.
During the year, the company took additional steps towards increased digitization, which has become a competitive factor.
"Both suppliers and customers are beginning to impose increasing requirements that we are able to offer user-friendly IT solutions. Being at the forefront of this development is an absolute necessity."
Several recruitments were also conducted in 2019, to strengthen the organization for the future. The sales and marketing department was boosted with the addition of Per-Arne Gustavsson – a veteran in the industry, with extensive experience from Lantmännen and most recently as grain manager at Svenska Foder.
"In this industry, relationships are the key to all transactions. The products that we and our competitors sell are often identical. Instead, it is important to understand the circumstances of the suppliers and the needs of the customers to build trust and loyalty. Per-Arne's skill and understanding of the entire value chain is difficult to surpass. He is a very welcome addition to BM Agri", says Johan Andersson.
In the long term, these initiatives pave the way for BM Agri to become an increasingly major player in the market. The company's growth journey must not, however, take place at the expense of profitability", underscores Johan Andersson, who stepped down in October 2019 to instead focus on strategic issues from board level of the company.
"The past year shows that we have found a concept that works, even when things are tough. There is a good foundation to build on. Stability and growth are the key terms that guide our way ahead", he says.
In October it was announced that the newly appointed marketing manager Per-Arne Gustavsson takes over as MD of the company.
"I consider it a privilege to lead a Swedish agricultural company with long experience and sense of business. After 30 years in the industry, I hope to contribute with my large network of contacts, both in Sweden and in our export markets. My ambition is to take advantage of my experience of larger companies, and still maintain a flexible company with efficient decision making", says Per-Arne Gustavsson.
SIGNIFICANT EVENTS 2018/2019
Per-Arne Gustavsson stepped in as MD in October 2019.
The operations showed a positive outcome despite the challenges facing the industry following the 2018 heat wave.
New recruitments in marketing, sales and administration.