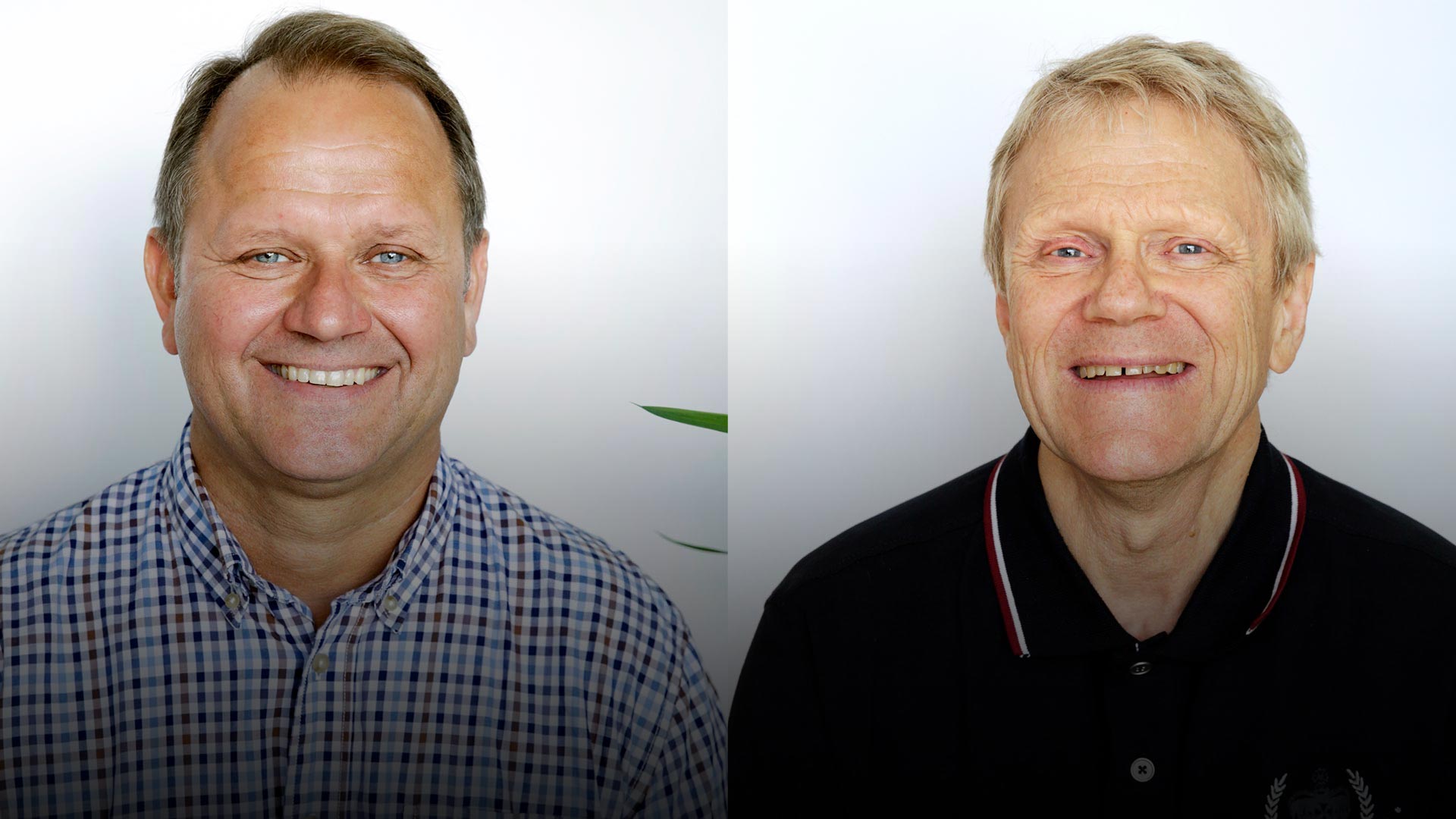 PETTER BECKMAN, INSPECTOR
& JAN-OLOV ALFREDSSON, TROTTING TRAINER
FACTS
Mellby Gård Farm is located just south of Hässleholm in the Swedish province of Skåne. The farm conducts modern, largescale farming operations focusing primarily on pig and cattle farming, forestry and horse breeding. The farm is one of the largest pig farms in Skåne and produces up to 18,000 pigs for slaughter each year. The Mellby Gård Group's area is just over 8,000 hectares spread over approximately 86 percent forest and 14 percent arable and pasture land. The land is rich in game and offers hunting for elk, red deer, wild boar and roe deer.
Mellby Gård Farm is a sister company of Mellby Gård. Mellby Gård's representative on the Board of Directors is Rune Andersson (Chairman).
FORESTRY AND RENEWABLE ENERGY DRIVING GROWTH
Major fluctuations in the market during the year, in combination with emphasis on rationalisation, meant that Mellby Gård continued to work for profitability and sustainability. New woodlands and investments in renewable energy will drive the farm forward.
In 2019, Mellby Gård made the decision to conduct a major transformation in order to optimise operations and profitability.This work continued in 2021, and as a result the farm discontinued its multiplier production during the year, at the same time continuing its annual production of about 17,000 pigs for slaughter and 200 suckler cows. This was due to a need for major investments on the farm and reduced profitability towards the end of 2021.
"Both energy and feed have gone up massively in price over the year, and we've been unable to compensate for this," says Petter Beckman, inspector at Mellby Gård Jordbruk.
The last few years have been turbulent for the farm, with major fluctuations in the market, just as for many other businesses and industries. Demand was good in early 2021, but profitability deteriorated significantly as feed and energy prices spiralled.
GROWTH WITH EMPHASIS ON FORESTS
Extended forestry is part of the Mellby Gård strategy for growth. Its objective is to have viable forest units. Forests adjacent to the farm's land in Skåne and Småland were acquired in 2021.
Timber prices remained stable throughout the year. Initiatives implemented and adverse weather conditions for the bark beetle meant that the infestation wasn't as extensive as in previous years, and the harvest was mainly on plan.
SUSTAINABLE ENERGY SUPPLY WITH SOLAR PANELS
Mellby Gård is assessing opportunities for a sustainable transition and how the farm can contribute to the circular cycle in its efforts to optimise operations and profitability. The energy supply is one success factor in this initiative. The farm invested in solar panels on one of its buildings in 2021, and this now generates energy covering one-third of the electricity needed by the unit. The farm is assessing further investments in renewable energy.
"We're considering more investments in photovoltaic systems, on our land as well as on buildings."
Mellby Gård no longer grows grain of any kind, so this land can be used to set up more solar panels.
MELLBY FREE FINISHES ON A HIGH
Mellby Free completed her final competition season in 2021, and she did so with enormous success. She was way out in front in her last start at Solvalla, and she crossed the finish line several lengths ahead of  the other teams. In her career, Mellby Free has won more than SEK 10 million in prize money and she's ranked as the ninth most successful mare of all time in terms of prize funds won – but now retirement and foals await her.
"Mellby Free has really finished on top. We're hoping now that she can produce lots of fine foals, and she'll be mated to the stallion Calgary Games in spring 2022," says Jan-Olov Alfredsson, harness racing trainer at Mellby Gård.
Mellby Gård is focusing on breeding its own horses instead of buying them. The stables are home to 77 horses – it's not a huge facility, but a lot of our horses win races. Mellby Free's successes are like a quality hallmark for Mellby Gård.
"At Mellby Gård, we've chosen to go the hard way about things by breeding our own horses. It can take a long time to produce good horses that win prizes. But there is potential, that's for sure. Mellby Jinx performed really well in 2021, winning SEK two million from nine starts."
SIGNIFICANT EVENTS 2021
Restructuring of livestock production on account of high operating costs.
Expansion of the forest area by around 130 hectares in accordance with the longterm growth strategy.
Establishment of renewable energy with a solar panel system.