ERIKSBERG HOTEL & NATURE RESERVE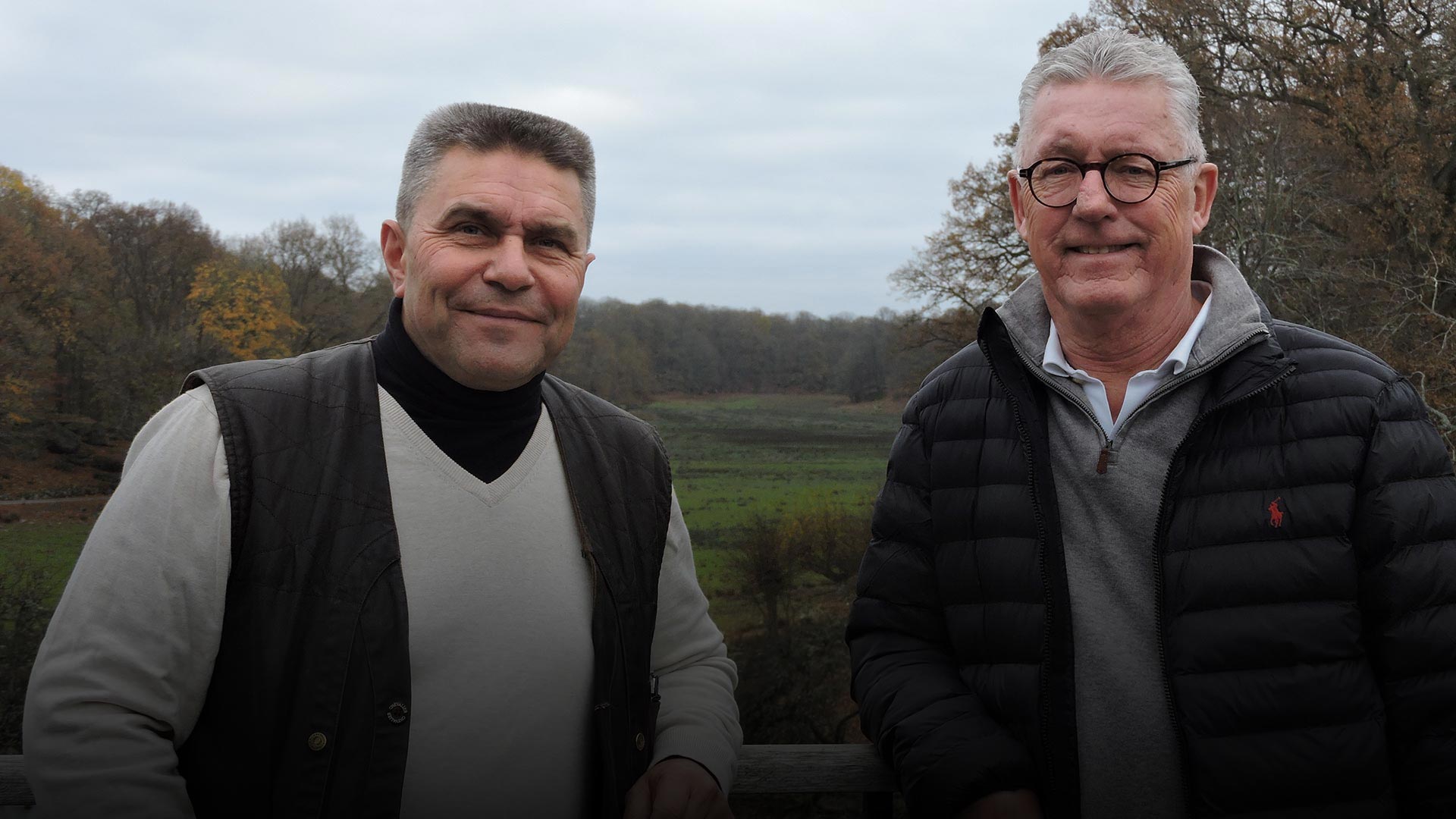 PER-ARNE OLSSON, CEO & STEN LIBELL, CHAIRMAN
FACTS
Eriksberg Hotel & Nature Reserve is located in the municipality of Karlshamn. It is one of northern Europe's largest wildlife reserves, and the largest safari park in the Nordic region. The property covers 1,348 hectares, of which 409 hectares are water. There is an abundance of wildlife here, including red deer, fallow deer, Père David's deer, wild boar, European bison (Europe's largest breeding herd) and mouflon sheep. In the summertime there are about 1,600 animals in total. The hotel and nature reserve attracted 80,000 visitors during 2021. Operations include a restaurant, a hotel and conference centre, events, tourism, forestry, nature conservation and hunting.
Eriksberg Hotel & Nature Reserve has been part of Mellby Gård since 2008. Mellby Gård's representatives on the Board of Directors are Sten Libell (Chairman) and Johan Andersson.
Sales 2021: SEK 55 million
Employees (FTE): 39
Chairman: Sten Libell
"WE NEED TO FOCUS OUR EFFORTS AND JOIN FORCES TO MAKE BLEKINGE SEXIER"
The biggest safari park in the Nordic region can be found just outside Karlshamn in Blekinge. There's an exclusive hotel, restaurant and conference facility here, nestling in the forest, mountains and archipelago. The nature and wildlife are the main attractions.
Nature is always at the heart of any visit to Eriksberg Hotel & Nature Reserve. In combination with world-class architecture and design, visitors are offered an unparalleled and unexpected experience. Quite simply, Eriksberg is a place that meets the highest expectations and where people make memories that last a lifetime. Eriksberg leaves its mark on everyone who visits.
"We've had a decent year even though we've been under restrictions. Staycations have become the obvious choice for many people. What we have to offer competes with beaches and swimming in summer, but we've managed to make up for it with coach trips and conferences for the rest of the year."
The aim is to create a year-round destination where sustainability and design help to reinforce the experience and the links with nature. 2021 was a better year than 2020 overall, with visitor numbers increasing from 60,000 to 80,000.
INNOVATIVE ACCOMMODATION THAT'S CLOSE TO NATURE
Blekinge is short on hotel accommodation. But Eriksberg is aiming to change that – in its own way. The emphasis here is on unique, natural accommodation combined with the very best of architecture and design. SynVillan, the Illusion Villa, is made of stainless steel, reflecting the countryside and becoming one with the environment. This building was designed by SandellSandberg and won both the 2020 Karlshamn Urban Design Award and the 2021 Sheet Metal Award.
"We're always on the lookout for new ways to evolve, and part of this involves working with renowned architects. It opens up completely new channels, and raising our profile in exclusive design and travel magazines gives people more of an interest in us."
HOTEL INITIATIVE TAKING INSPIRATION FROM THE BIBLE
Eriksberg is now about to embark upon another spectacular hotel initiative. The new freestanding wooden building was designed by Oskar Årevall and is shaped like a boat, with all rooms overlooking the Savannah. This hotel, with the working name Arken – The Ark – will invite guests to embark upon a journey that will teach them more about animals and nature. Just like in Noah's time.
"We're aiming to enrich the experience at Eriksberg on the basis of nature. We want to blur the boundaries between indoors and outdoors, and make nature accessible 365 days a year."
The new hotel is designed and will be built with emphasis on sustainability so as to minimise its environmental impact. This is also the aim with the choice of façade and roof, which will be made of wood and sedum, as well as heating, ventilation and operation. The hotel rooms will also have obvious environmental themes so as to enhance the natural experience still further. Completion of the new Arken Hotel is expected in 2023.
FROM THE ICE AGE TO THE PRESENT DAY
The unique environment is inspiring. The first humans who were here were aware of this 10,000 years ago, and it's still true today. Places like Eriksberg are needed in order to show the urbanised population how animals and nature actually function. Founder Bengt Berg took this as his starting point in the 1940s when he created the Mahraviken biological experimental area. This is still the Eriksberg business concept, and the philosophy lives on with the family that now owns it.
"Having Mellby Gård as the owner is absolutely vital to the running of Eriksberg. We might have ideas and ambitions, but without our owners we'd never have been able to either establish or, indeed, develop the business. Like now, with the latest Arken hotel initiative and the exciting journey ahead."
2022 heralds the 80th anniversary of the founding of Eriksberg, and preparations for the anniversary year are in full swing. Exhibitions and lectures are planned in order to highlight the farm's natural heritage and significance. Eriksberg is a place that leaves an impression – and it's hoped that future generations will agree. 
WE NEED TO FOCUS OUR EFFORTS AND JOIN FORCES TO MAKE BLEKINGE SEXIER
Blekinge is known as the Garden of Sweden. So working in partnership with seed company Nelson Garden seemed like a natural choice in Eriksberg's attempts to enhance biodiversity on the basis of the local crofter culture. The first step was to create a herb garden designed to inspire visitors to grow their own herbs at home, provide the chefs with fresh, locally grown herbs and promote habitats for bees, butterflies and other insects.
"Being outdoors is in, so we want to give people more of an interest in nature and gardens – and what they mean in terms of health and sustainability."
Eriksberg is Blekinge's single biggest employer in the tourist industry, so it goes without saying that the region should be developed as a tourist destination. The Archipelago Walk is one initiative that Eriksberg is typically passionate about. Building bridges between islands, islets and skerries will enable people to walk along the coast. Focusing on a strong gastronomic team and fine dining also proved to be a huge success. Coverage in the gastronomic press meant more guests – and more competition for staff.
"There's so much in Blekinge that remains undeveloped. We need to focus our efforts and join forces to make Blekinge sexier."
SIGNIFICANT EVENTS 2021
Participation in the Archipelago Walk for linking up the Blekinge archipelago  with bridges, footbridges and walking experiences.
The first Caucasian wisent was born and a record 14 Père David's deer were born.
Breakthrough for the evening safari with a thermal camera and a live camera broadcasting from the day-to-day life of the countryside, 24 hours a day.